Black Friday tips that really work! Bonus: 5 sample SMS templates
One of the biggest shopping holidays, Black Friday and then Cyber Monday, is fast approaching. For 2022, these holidays are coming up on November 25 and November 28. Time is short and it's clear to us that you are very busy within your business. We've put together some quick tips to help you with your SMS marketing campaign.
First campaign: Wednesday 23 November 2022
Let all your customers know what event you have in store for them and what they can look forward to. The ideal day to send out this first piece of information about your planned promotion is just two days before Black Friday. This is because sending the first informational SMS earlier might discourage your existing customers from buying and they are more likely to choose a wait-and-see strategy just for Black Friday. A big enticement and element that would motivate customers is then information with a countdown to the start of the big sale event.
Send the SMS in the early evening between 18:00 and 19:00, when most of your customers are at home and have the space to explore your offer on the e-shop and plan their Black Friday shopping.
Second campaign: Thursday 24 November 2022
In case you have segmented your customers and have built an audience of your VIP or regular customers that you cherish, here is the right time to reach out to them. Prepare a truly exclusive discount for them or offer them the opportunity to make early purchases at discounted prices compared to regular customers. It's the best way to target and encourage purchases from the most engaged group of customers.
Send your SMS campaign in the morning around 10:00am to give your customers an extra full day to take advantage of this special promotion.
Third campaign: Friday 25 November 2022 – Black Friday
The big sales event of the year has just kicked off. Let all your customers know, everywhere! On the website, in newsletters, in SMS campaigns, in stores…
You can even divide your audience into several groups and send SMS messages that are tailored to their shopping behaviour within your store. Tune the SMS message to a sense of urgency, emphasise that the promotion is limited in time or while stocks last, that such a big promotion is really only valid on this day of the year and mention the incentive to take action.
Send this SMS in the morning, ideally around 9:00am.
Fourth campaign: Sunday 27 November 2022
Inform your customers that due to high interest, you've extended the promotion and they have one last chance to take advantage of it before midnight on Sunday. In this case, push for emotion and a sense of urgency within the limited time of your discount promotion.
Send the SMS in the morning, no later than 11:00 am.
Fifth campaign: Monday 28 November 2022 – Cyber Monday
Let your customers know that Black Friday isn't over with you and they can take advantage of one last opportunity to shop for extra bargains on Cyber Monday. For this day, prepare a really tempting offer and get an even bigger discount than you did on Black Friday. However, what appeals even more here is that the promotion is limited in time and only valid for one day. By doing this, you will be able to entice and convince even the biggest hesitators who have not used the Black Friday promotion or only partially used it.
Send the SMS in the morning hours of Monday, ideally between 8:00 and 9:00. Emphasise that the promotion is only valid until midnight on Monday.
Bonus: 5 sample SMS templates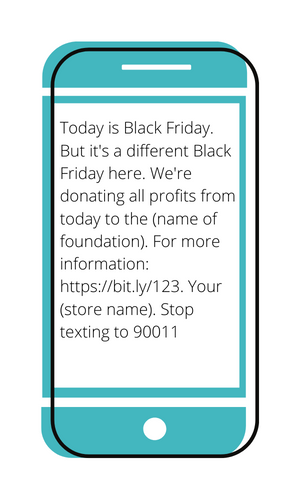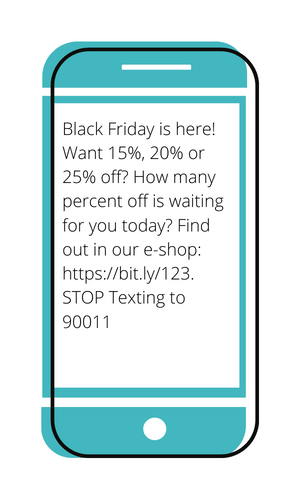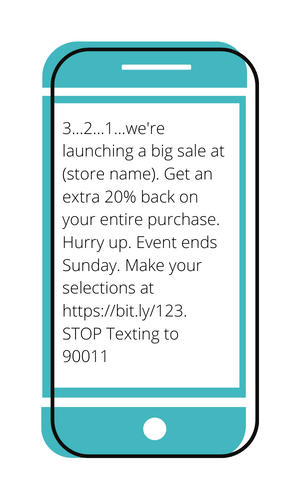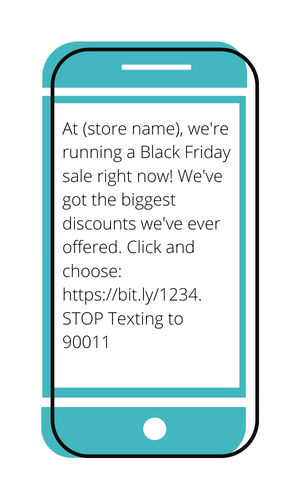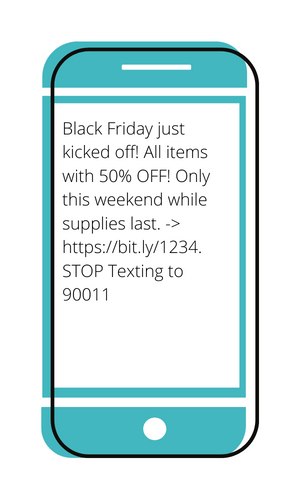 We hope our tips will inspire you and help you create an enticing SMS campaign for Black Friday and Cyber Monday. Take advantage of this unique business event and incorporate SMS marketing into your communications. This is a very cost-effective channel where you can set up an SMS campaign in minutes.
I want to prepare an SMS campaign >>