SMS marketing messages for Cyber Monday that will increase your sales
Black Friday and Cyber Monday are among your customers' favourite shopping holidays. Take advantage of this and offer them a bargain they won't get for the rest of the year. Make the most of Black Friday and Cyber Monday, and text messaging will help you do it. Imagine if 90% of your recipients read your message within 3 minutes of delivery. It's not science fiction! This is SMS marketing and you need to take advantage of it!
With SMS marketing you can activate your audience even more:
✔️ Send your customers a text message announcing the sale as soon as you launch it.
✔️ Send SMS VIP coupons with even better deals to your most loyal customers.
✔️  Send automated and, most importantly, timely cart abandonment reminders with an incentive to complete the purchase and maybe even a few percent off.
✔️ On holiday days, be sure to remind your customers that your online store is always open.
✔️ Make the customer's journey to your online store easier. Add a link and call to action to your SMS.
Get ready for Cyber Monday
Make getting up in the morning more pleasant
Cyber Monday is here and you need to get ahead of the rest! Grab attention as early as possible and send out your SMS campaign around 8am before your competitors do. Your customers will already be awake and happy to take advantage of your offer before they get to work.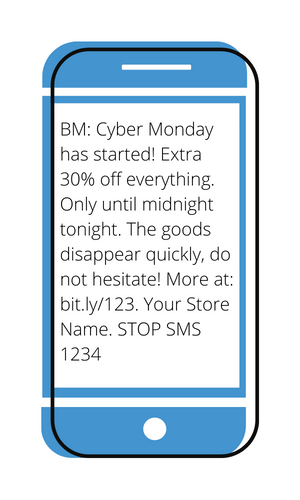 Be urgent
Yes, you may very often use the tried and tested phrases "limited time offer", "while stocks last", etc.
But know that on Cyber Monday you need to be extremely urgent. This is an offer that is really very limited in time and you need to use the right incentives to grab attention and get the customer to take action.
So include words in your communication:
Don't wait!
Today only!
Don't hesitate!
It sells out fast!
Take advantage immediately!
Limited number available!
Only a few hours!
Hurry up!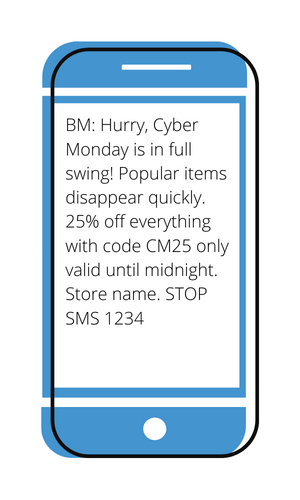 Remind yourself
Let your customers know in the morning that you're launching Black Friday! However, many users will forget the message. Remind yourself! Time is running out and the sale is slowly coming to an end, so don't let your customers miss out. Every reminder like this will mean an increase in sales for you. And isn't it a shame not to take advantage of this opportunity?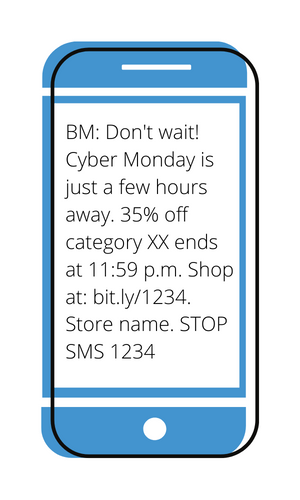 Strike while the iron is hot
Who said you have to stop at the best of times? Continue the exciting SMS offer for your VIP customers.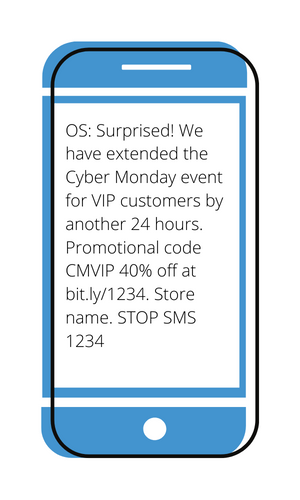 Prepare your campaign in 30 minutes
An SMS marketing campaign is by no means difficult. Just register an account with GoSMS, upload your contacts, prepare a 160-character SMS message, top up your credit and send the campaign. The whole process can be done in 30 minutes. Take advantage of this opportunity to increase your sales by up to an additional 30%.